---
The Rampant Ballboy Interviews - craig levein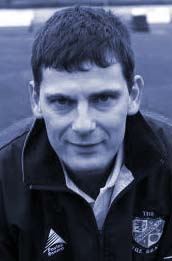 It goes without saying that the natural choice for this issue's Rampant Ballboy former player interview is of course Craig Levein the popular appointment as Cowden's new manager. Craig started out his senior career with The Blue Brazil in 1981 and is delighted to be back with the club in his managerial capacity. Craig gladly took time out from his hectic schedule to speak to the Rampant Ballboy.
I presume your footballing talents first came to light at school?
Yes, coming from Aberdour I went to Inverkeithing High School and played in the school team along with Gordon Durie. l played juvenile for Dalgety Bay and Leven Royals before joining Inverkeithing Under 16's. It was when I was with lnverkeithing at the age of 15 that I packed the game in for a year, I just became fed up of football at that time.
What enticed you back into the game?
My brother was playing with Lochore Juniors and got me to go to their training. I thoroughly enjoyed the training and consequently got back in the swing of playing football. I signed for Lochore Juniors and during my time there I had numerous trials with senior clubs one of which was Cowdenbeath when Pat Stanton was manager. However it was Andy Rolland who signed me for Cowdenbeath when I was 17. Andy was a great guy. He had the knack of keeping part time players interested in the club and he built up a good team spirit. I will draw on my experience under Andy for my own managerial career.
How long did it take you to break into the first team?
I played a few reserve games then made my debut playing centre back against Albion Rovers. I did well on my debut and was a first team regular after that. I do however remember being on the subs bench for one game , I was really disappointed and thought "I don't fancy this much". I was determined that it would never happen to me again. I was never on the subs bench after that in my entire career so it was something that lived with me always.
What were your fondest memories of your time at Central Park ?
I enjoyed playing alongside such players as Grant Tierney, Stewart Williamson, Bertie Millar, Gunner Liddle and Billy Steele to name but a few. The most memorable game was the League Cup tie when we went out to Hearts over 2 legs on penalties . We had a chance to win the game in the dying minutes. Given that Cowdenbeath were my first senior club I will always have fond memories of my time then. I learned a lot in my year and a half at Central Park.
When did you sign for Hearts and what games stick in your mind during your time at Tynecastle ?
l signed for Hearts from Cowdenbeath in November 1983 at the age of 19. The Bayern Munich UEFA Cup tie when Hearts won 1-0 was a tremendous night the atmosphere at Tynecastle was incredible. There was also a Rangers cup tie which Hearts won 4-2 after Rangers had pulled back to 2-2 and looked odds on to go on and win. Talking of cup ties there was a derby game at Easter Road which Hearts won 2- 1 with Wayne Foster scoring late on which sticks in my mind. I'm sure young Gordon McDougall will remember that game also!
No need to ask what the biggest disappointment was at Hearts...
Season 1985/86, I had a flu bug and missed the last game of the season at Dens Park which we lost 2-1. The whole team were devastated at the way we had lost the league. The team never recovered from that and as a result we lost the Cup Final to Aberdeen shortly afterwards. I've remained friends with many of my Hearts team-mates in particular John Colquhoun, Steven Frail, Robbo and Dave McPherson.
When did you win your first cap for Scotland ?
It was against Argentina at Hampden in 1990 when Stewart McKimmie scored the only goal. The most memorable game was the 2-1 win over Sweden in Genoa at The World Cup in 1990. The fans were immense . Despite having lost the first game to Costa Rica the supporters were all willing us on with tremendous enthusiasm. It was a wonderful experience, l gained 16 caps in all.
You've obviously been very unfortunate with injuries during your career.
In 1986 l sustained a cruciate ligament injury. After I recovered I played for six months when the injury re-occurred. l was out in total for three years returning in 1989. l then played virtually injury free till we played Dunfermline at Tynecastle in 1995. I felt my knee go in a tackle and haven't played since. I have had two operations since then but neither have been successful. I had an operation a few days ago to get screws out of my knee as I have been getting quite a bit of jip recently.
What happened after your playing days were finished ?
I worked for a year and a half at Hearts with Paul Hegarty and Peter Houston coaching the youths, I gained a lot from this. The response from the kids was great, l then spoke to Jim Leishman who I knew from my days at Central Park, Jim arranged for me to begin training the full timers at Livingston which l did from the start of this season, I really enjoyed this also. You're always learning when you are coaching.
How did you come to take up the Cowdenbeath post ?
I received a phone call from Bernard Hunter and went in past Gordon McDougall's house on the way back from seeing the specialist in Bradford about my knee. Gordon asked me if I would be interested in taking the managers job. I was a bit hesitant at first. It is a big step. Your first job in football management is always a yardstick that people judge you on so it can be a huge risk. I talked things over with my wife and Gordon McDougall amongst others and I decided that it would be a good step coming to a struggling club. I obviously want to help the club given my affiliation with it, and have strong ambitions to make the club successful. I 'm looking forward to the challenge ahead.
What are your aims for the rest of this season ?
To try and make the players realise that they are the ones who are responsible for us being bottom of the league not Sammy Conn nor anyone else. The attitude of the players must be right. A good team spirit is essential. That is how teams become successful. All the best football teams have everyone working for each other. That is what I aim to achieve here. Anyone who does not try will be shown the door, l will not tolerate that. I am looking to bring some new faces in during the course of the season to get the team gelled together for a big push next season.
What are your longer term aims for the rest of the season?
To get people in through the turnstiles to watch Cowdenbeath Football Club. Punters will not want to come and watch us if we are crap, I am under no illusion about that. I want a 100% commitment from anyone who pulls on a Cowdenbeath jersey. l am keen to get the youngsters involved also. A youth policy is vital to a club like Cowdenbeath. It's a long term thing but young lads are always keen to learn and ours will be given a chance to prove themselves in the first team if they show promise.
Lastly Craig have you noticed much change since you were last at Central Park?
Obviously the new stand is different as are the directors and other backroom staff with the exception of Eric Mitchell. The club essentially hasn't changed l'm just hoping that I can help it achieve success. l must thank Gordon McDougall and Joe McNamara who have gone out of their way to help me since I arrived. A big thank you also to Gary Kirk and the other back-room staff who have been a great support to me in my first managerial venture.
On behalf of the entire Fanzine team, and I'm sure all Blue Brazilians everywhere, l wish Craig and his staff every success in bringing a welcome change to Cowden's fortunes.
We're always on the lookout for Blue Brazilians from yesteryear. If you should know of anyone who is worthy of a mention, drop an email to webmaster@blue-brazil.co.uk